Taking a walk and enjoying nature is its own reward, but I think hiking is best when there is a waterfall at the end of the trail! Even better, take a picnic lunch, a partner, and a hammock for two (like this ENO ;)) and enjoy the sound of the waterfall at the ultimate lunch spot. 
Thankfully, Alabama is blessed to have waterfalls all over the state, so wherever you are, there's a hike with a waterfall at the end of it close by.  Keep reading to see our favorites.
Before you venture out, make sure you have these
Map

Either buy a nice topographic map of the area or print one out

Water and Emergency Filtration

If you get hurt or lost, clean water is critical so pack a Lifestraw

A Friend Back Home

That knows 1) where you are and 2) when you expect to be back
SOUGAHOAGDEE FALLS TRAIL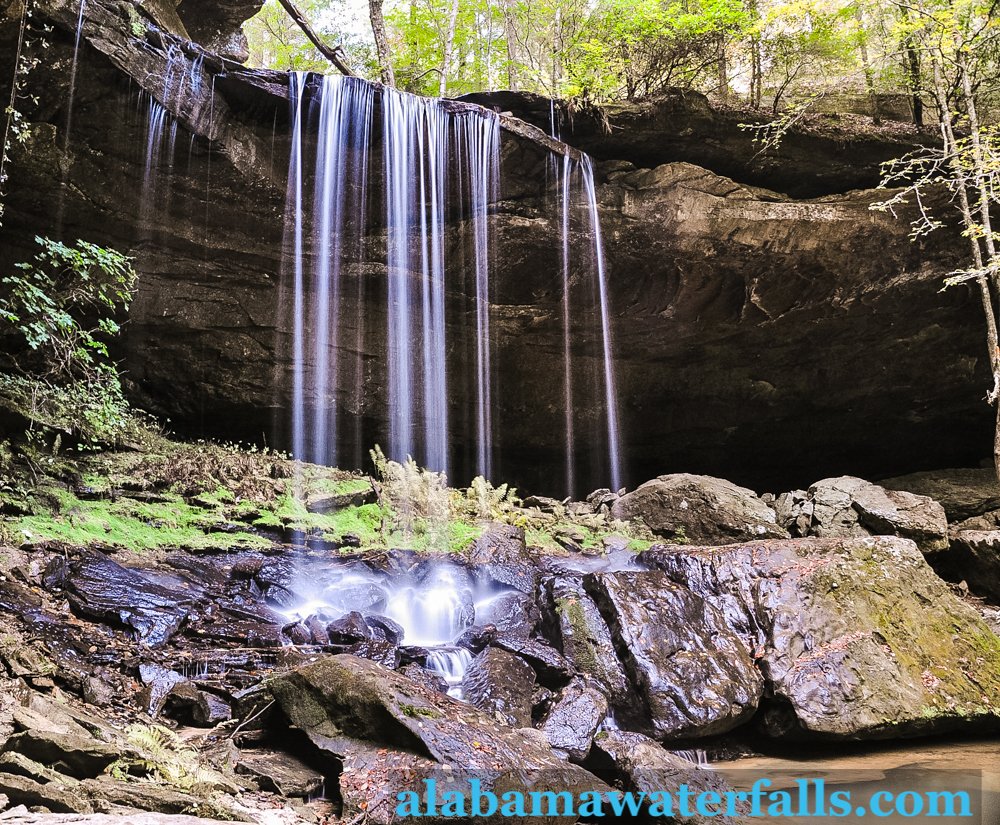 As a large family, we find renting a home for a night much more relaxing than a hotel, and it's so nice to have a place nearby to crash after a long day of hiking! You can find nice, affordable homes
on Vrbo
.
Also located in Winston County, the hike to Sougahoagdee Falls (see our trip guide), is a a couple of miles. But that's okay because the hike is an attraction in itself. The fall is in the Bankhead National Forest, which is home to many waterfalls. So while heading toward Sougahoagdee, you might find yourself making stops to marvel over Mize Mill Falls, Turkeyfoot Falls, Eagle Creek Falls, Deer Skull Falls and Little Ugly Falls, among others.
CHINNABEE SILENT TRAIL
Located in Clay County, this hiking trail is about 7.3 miles. The view is beautiful, that's for sure. And you can even take your dog with you during the hike–just make sure you have a leash with you. The trail starts with a lake that is home to a number of turtles. You will pass by two waterfalls in the trail: Devil's Den (which you can see early on the hike) and the Cheaha falls (farther on the trail). There are a number of activities in the area as you can have a picnic before going back to real life. Hikers recommend using the trail between March and November.
CANEY CREEK FALLS TRAIL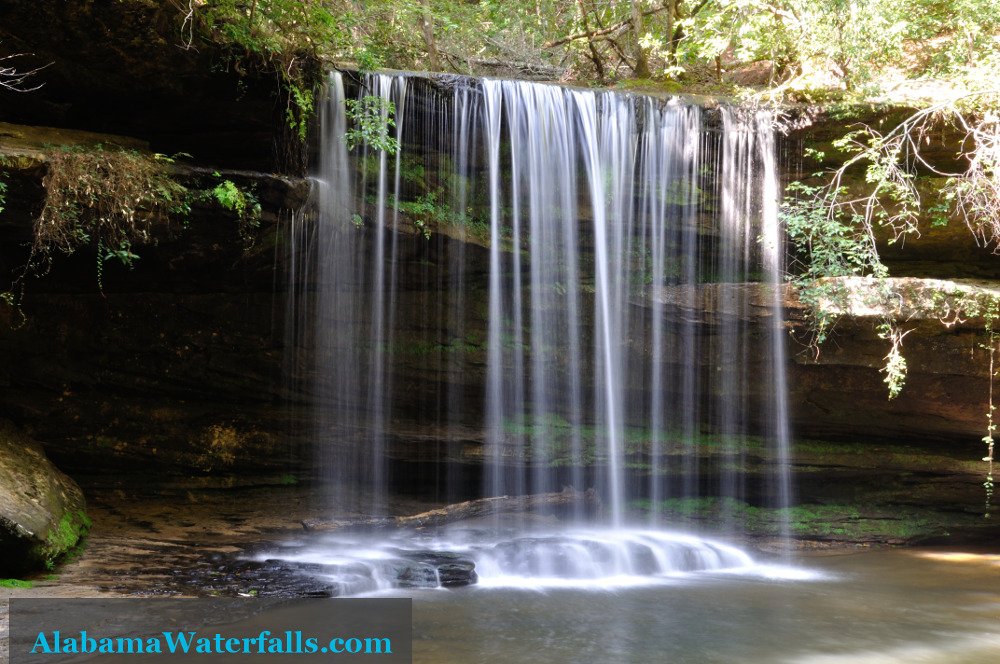 Many have branded Caney Creek the most beautiful falls in Alabama. So this 1.7 mile hiking trail in Winston County is definitely worth all the trouble. The trail will involve crossing a creek so you have to wear the appropriate footwear to prevent slipping. The waterfall has a 20-foot drop, and it falls like wonderful white strands to a shallow pool. If you still have the time and the energy, there is another waterfall when you follow the stream downward–just about a mile away.
Be sure to check out our Caney Creek Falls trip guide!
FALLING ROCK FALLS TRAIL HEAD
This 90-foot waterfall is also known as the hidden gem right outside Montevallo. The hike is quite easy and great for beginners. The trail is just about 1.8 miles and is accessible the entire year. There are tall trees all around the trail, which make for a natural protection from the heat of the sun. The waterfall also contains clear water that is refreshing–whether you plan to swim or just wade through it.
GREEN AND WHITE TRAIL LOOP
In Pelham, there is a 1.6 mile trail known as the Green and White Trail Loop that ends with the glorious Peavine Falls. The trail is open the entire year and there are various activities for you and your friends or family in Oak Mountain State Park. The trail is moderate to steep with a couple of really challenging parts. But the 25-foot Peavine Falls is worth the trouble.
ALUM HOLLOW TRAIL
This trail in Huntsville is great for all skill levels of hikers. The 2.2 mile trail is named after the Alum Caves, which you can find along the the trail. There are three of them. The trail is child-friendly and well marked. And if it's a hit with children, you know your dog will love it too. Of course, the highlight of the hike is the waterfall, which is seasonal. 
LOST SINK TRAIL
This is a 2.8 trail in Madison County that has the Lost Sink Waterfall as a destination. The trail is part of the Keel Mountain Nature Preserve, which is a project by the Land Trust of North Alabama and the Nature Conservancy. If you want to see the most water, travel to this one in winter or spring.  Otherwise, you may only see a trickle. But the hike and rock formations are cool any time of the year, with plenty of opportunities for kids to explore.
RAINBOW FALLS TRAIL
Located in Dismals Canyon, an 85-acre privately owned Natural Conservatory in Northwest Alabama, Rainbow Falls has become one of the favorite spots among locals during the summer. Heading to the waterfall involves a 1.5-mile hiking trail through a wonderful maze of ferns and giant trees. As a popular vacation spot, cabins are available for rent. It is advised that you stay the night to witness the bright bioluminescent bugs that are unique to the area.
EAGLE CREEK FALLS TRAIL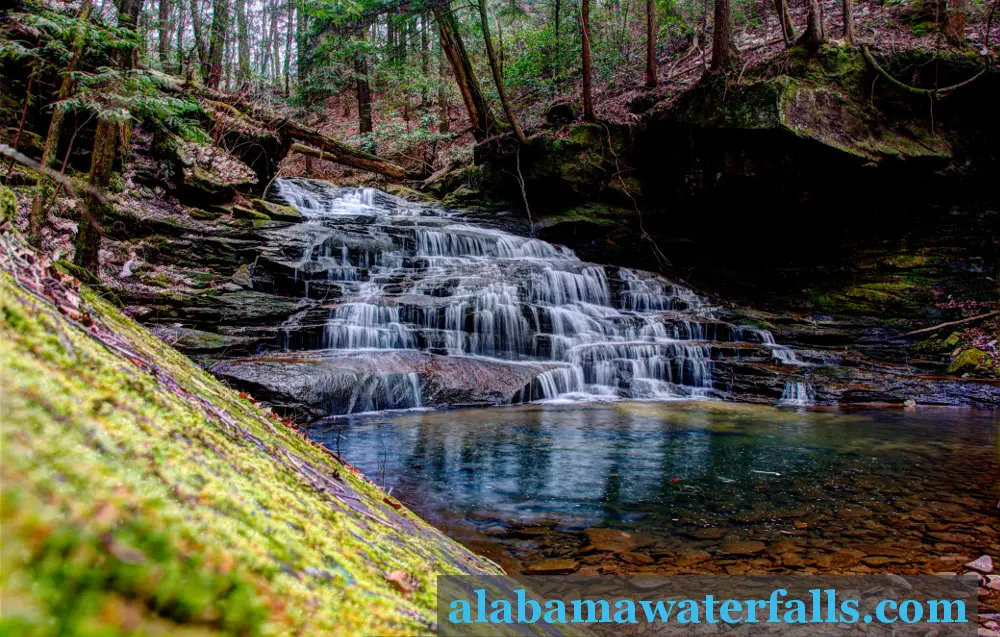 As mentioned, this is around the vicinity of the Sougahoagdee Falls in the Bankhead National Forest. You have to park on Cranal Road and Forest Road 221 in order to start this hike. There is no actual trail but the walk to Eagle Creek Falls is not that hard to find. You can use the GPS coordinates and the track I recorded in our Eagle Creek Falls Trip Guide. You will meet a couple of creeks before reaching the waterfall and waterproof shoes or warm weather is a plus! Walk farther and can visit Deer Skull Falls and Little Ugly Falls too!
Share on Facebook and recruit a friend to hike with you!
SALT CREEK FALLS
A beautiful creek and beautiful waterfalls, Salt Creek Falls is located in the Talladega Ranger District. The trail is very short–just half a mile before you reach the top of the falls. But if you want a more challenging hike, you go down the waterfalls. Going back to the top is even harder.
Know someone who needs to get out more? Invite them out!
What are the best hikes near me?
Not sure where to start?  Use our map to find the best hikes near you with waterfall destinations!  There's a trip guide linked from each one, just click on the waterfall icon.
And remember to leave no trace
Remember, you're enjoying the beauty of these places because they've been preserved for hundreds of years in this state.  Be kind enough to keep it that way for others by learning and following the Leave No Trace principles.
Know one we missed?
Do you have a favorite hike or waterfall that we didn't cover?  Let me know down in the comments!