Caney Creek Falls and Upper Caney Creek Falls in particular are thought by many to be the most beautiful waterfall trip in Alabama. It's a bit of a hike in, and the hike out of the ampitheater can be hard on the way out, but it's doable for larger kids and dogs. Just use some caution on the descent into the small canyon to see the falls. Be sure to read below about parking, cars have been towed!
At a Glance
1.7 mi round trip
Nice View
Kids OK
Dogs OK
Location:
Near Double Springs in
Bankhead National Forest
Alabama (
see maps & directions
)
Must haves:
a Bankhead National Forest map
that doesn't need batteries 😉
Gear:
Our favorite snacks (like these
espresso energy bars
) and
camera gear
Gallery:
Check out
the pictures here
Caney Creek Falls - Trip Details
As a large family, we find renting a home for a night much more relaxing than a hotel, and it's so nice to have a place nearby to crash after a long day of hiking! You can find nice, affordable homes
on Vrbo
.
We hadn't been in Alabama for long before someone mentioned a trip to Caney Creek Falls for some fun outdoors and great pictures. After taking the trip, I'd have to agree that it's one of the better waterfall hikes in the state.
I have to extend a big thanks to Lane Leopard for sending over much better pictures than what I took!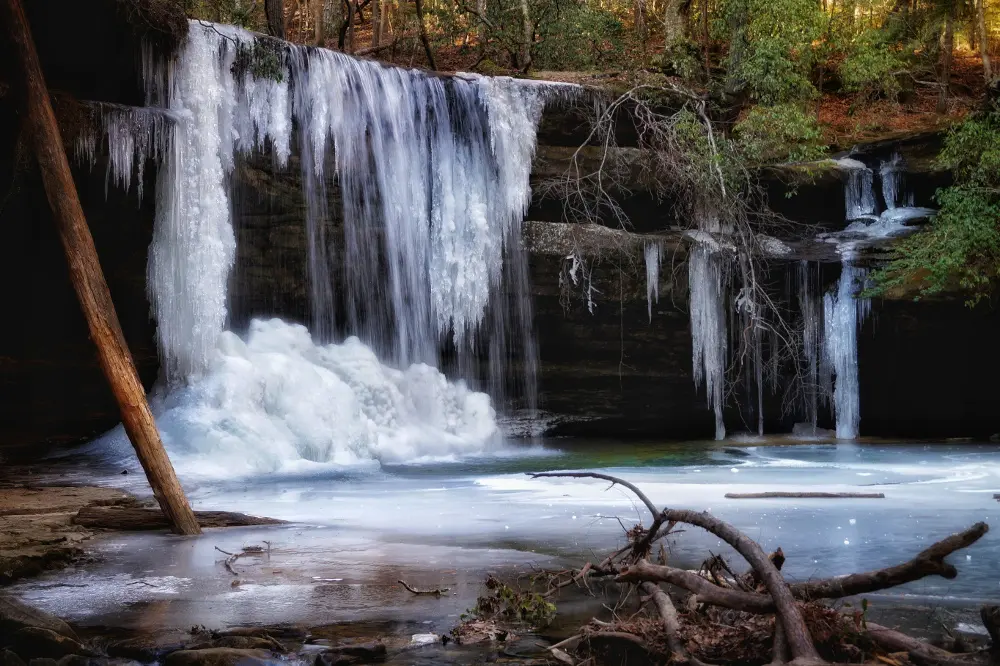 Ready for a weekend away? Find a cabin to rent near Caney Creek
The OLD parking for the hike into Caney Creek Falls is on County Road 2 and shown in the picture below. There is a new owner of this spot that WILL have your car towed. You want to continue past this point and use the small dirt road on the right. The new trail is marked with orange flagging tape from this road.  If the new owners have established a donation box, PLEASE consider supporting their decision to keep this beautiful part of Alabama open for access.
Since the falls themselves are in Bankhead National Forest land, overnight camping is permitted as well.
The approach to the falls is a steep one, so keep a close eye on dogs and children.
If you continue downstream for about 20 minutes, you'll get to the lower falls, but you'll have to cross the creek to follow the trail to that point.
Hiking to Caney Creek Falls
As the sign across the trail at the road cautions, the falls are a little under a mile from the parking area. On top of that, the walk up out of the small canyon and much of the way back to the car will be slightly uphill. So, prepare for a workout on the way back.
Just past the gate and at a few spots along the trail, there are significant amounts of poison ivy along the trail, so just be cautious with dogs and small kids if anyone has a sensitivity to it. The trail is very wide except for a couple of short stretches, so it shouldn't be a problem.
Most of the hike follows a wide flat trail cut through upland forest which gradually descends to the creek and the falls themselves. In summer, you can enjoy hydrangeas blooming along the trail under the hardwood canopy. Our kids and I enjoyed seeing the Bigleaf Magnolia (Magnolia macrophylla) with its huge leaves (up to 36" long) and flowers up to a foot across. They are fairly common in eastern Mississippi and western Alabama, but it was our first encounter with the species. They bloom in late spring and early summer.
Once you begin to descend to the creek, you should use caution with you kids and dogs.  While the trail is not treacherous, a fall down to the stream from the top of the canyon would be pretty serious.  It's hard to judge in pictures, but here's a shot facing back up the trail to give you an idea of the approach: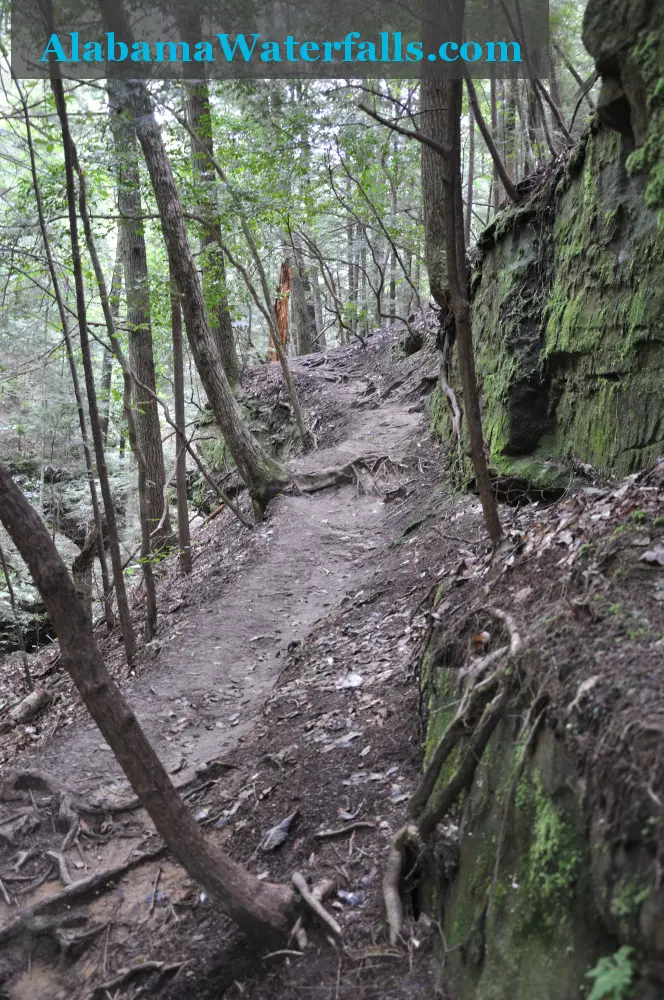 The Waterfall(s?)
The falls drop about 20 feet onto a rock ledge and run off into a shallow pool. At times of higher runoff, there is a second seasonal waterfall to the right.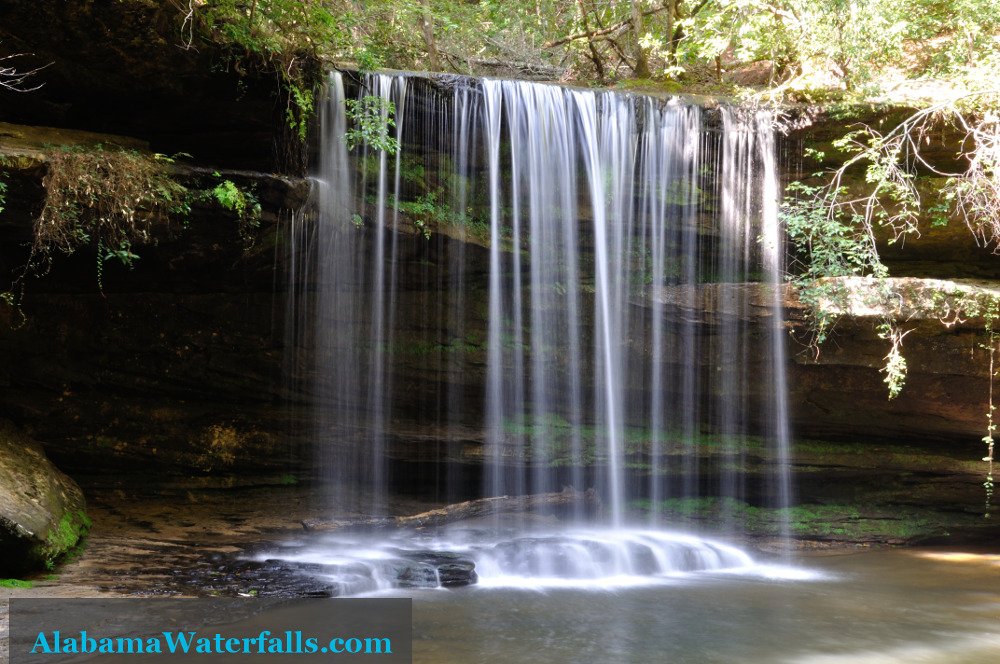 Access behind the falls is easy, making for a fun spot to enjoy with the kids behind the falls.
Some accounts mention another waterfall about 20 minutes downstream, but we didn't take the chance to go exploring further on this trip. Let us know in the comments if you can provide more detail or pictures.
The small canyon below the falls offers a great chance for a geology lesson with kids and beautiful moss-covered rocks along the creek bed, but be prepared to get your shoes a little wet crossing the creek if you don't have waterproof hiking boots.
The hike back to the car is a bit of a gasser, especially when alternating carrying 3 and 5 year olds! So, you'll appreciate a few minutes in the car when you get back out. But, all in all, this is a fun half-day trip and a gorgeous overnight camping opportunity.
Conditions
More Waterfalls around Bankhead National Forest
Caney Creek Falls Map, Directions, and Resources
Directions

Get Directions

Parking

-

GPS Coordinates

34.245816, -87.433239
Places to Stay
There is primitive camping available at Brushy Creek Campground close by. For those that are looking for something nicer, there are
nice homes for reasonable prices nearby
listed on Homeaway.
Other Resources
Park Website
Park Map
There are no restrooms on site and the nearest will be a 15 minute drive to Haleyville, so plan accordingly!