Planning an escape with your family and friends while the weather is nice? If you're looking for a place with beautiful scenery where you can enjoy natural beauty, why not visit a waterfall?
Whether you're planning to relax from the hustle-and-bustle of city life or just want to have fun with your loved ones, these beautiful waterfalls are waiting to be explored. You don't even need to spend a lot to enjoy these gifts of nature, especially if you live within the state. So get ready to pack your packs and head over to one of these beautiful spots!
As a large family, we find renting a home for a night much more relaxing than a hotel, and it's so nice to have a place nearby to crash after a long day of hiking! You can find nice, affordable homes
on Vrbo
.
One of Alabama's most-visited falls is DeSoto Falls. It is one of the tallest waterfalls in the state, standing about 106 feet above a beautiful gorge. You can reach the falls by taking a short hike a hundred yards away from the parking lot via a paved pathway. Since the falls is near the DeSoto State Park, you can enjoy many outdoor activities during your visit, such as fishing, kayaking, wildflower expeditions, and many others. You can also enjoy some sightseeing with nearby falls in the area. DeSoto falls is definitely worth visiting if you're looking forward to an afternoon in the great outdoors.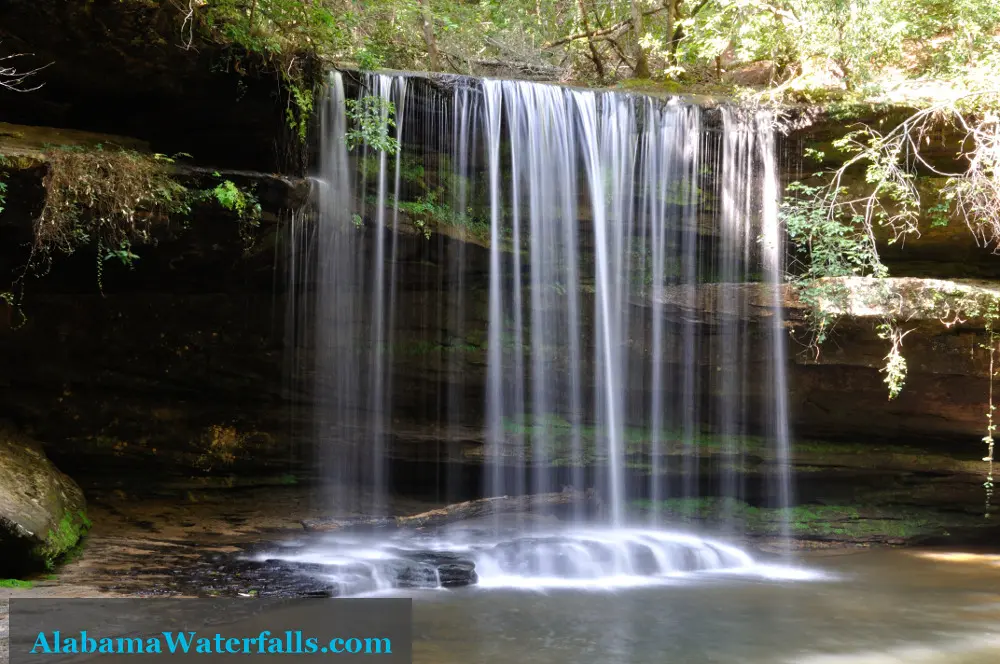 Caney Creek Falls is among the most beautiful falls to visit in Alabama with a longer, but enjoyable, walk to the falls. You begin your hike on a road off Winston County that follows a trail and eventually descends down the steep Caney Creek Canyon. Be careful when you cross the creek as you may encounter slippery rocks and a steep section of the trail. Make sure to wear sturdy footwear or hiking boots and wool socks to keep your feet warm. We also recommend that you bring your snacks, drinking water, a camera, and sunscreen lotion. Well-behaved dogs can be brought during your trip but make sure that you keep them on a leash.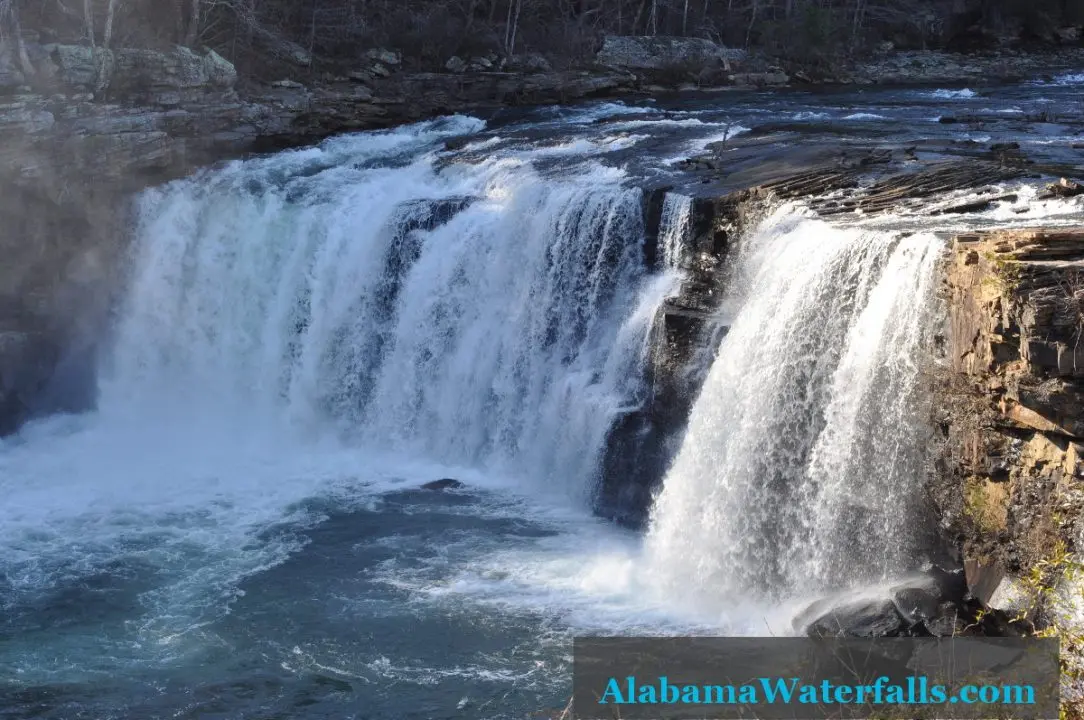 Located within the Little River Canyon National Preserve, the Little River Falls is a scenic view just off of the highway for easy access. The falls also marks the head of Little River Canyon which is 12 miles long and 600 feet deep. You can access the 45-feet tall waterfall via a paved pathway from the parking lot descending to an overlook, or go to the easier path by driving via Canyon Rim Drive. The water level in the area is high during the winter and early spring season but low during summer and early fall. Caution must be taken if the water level is high to avoid accidents.
If you're considering swimming, just be careful with slippery rocks. Many people have been hurt climbing and swimming around the falls.
Eagle Creek Falls is a scenic spot located a short walk away from the Cranal road. The hike towards this magnificent view is considered easy as you pass through the hemlock groves and a beautiful canyon. To avoid getting lost, you can use your GPS to get to the falls. Another option is to follow the creek out towards Cranal road and then back to the parking area.
Noccalula Falls is a stunning spot located within the Noccalula Falls Park in Gadsden. The fall is 90 feet tall and can be easily viewed from the parking area above the falls.  If you like hiking, the base of the falls can be accessed by traversing a pathway through the Black Creek Gorge. During your visit to the fall, you can also enjoy other activities located within the park such as the petting zoo, the Gilliland-Reese Covered Bridge built in 1899, a mini golf course, as well as the replica 1863 C. P. Huntington train ride. Noccalula is rich in history which is worth exploring for the curious and adventurous.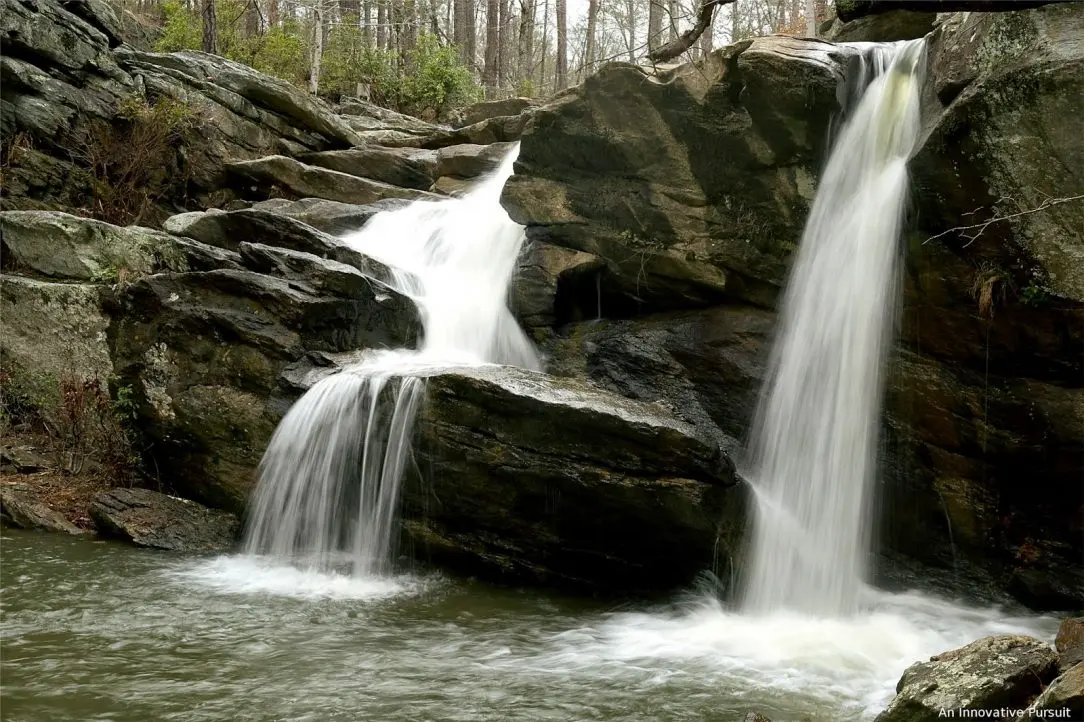 Cheaha Falls is a stunning, three-tiered cascade falls located a short walk away from the famous Devil's Den. The cascading falls form as Cheaha Creek drops towards a rock face. Backpackers can enjoy a night near the rushing waters or use the nearby trail shelters. You can also pitch your own tent if you want to stay overnight without the extra charge.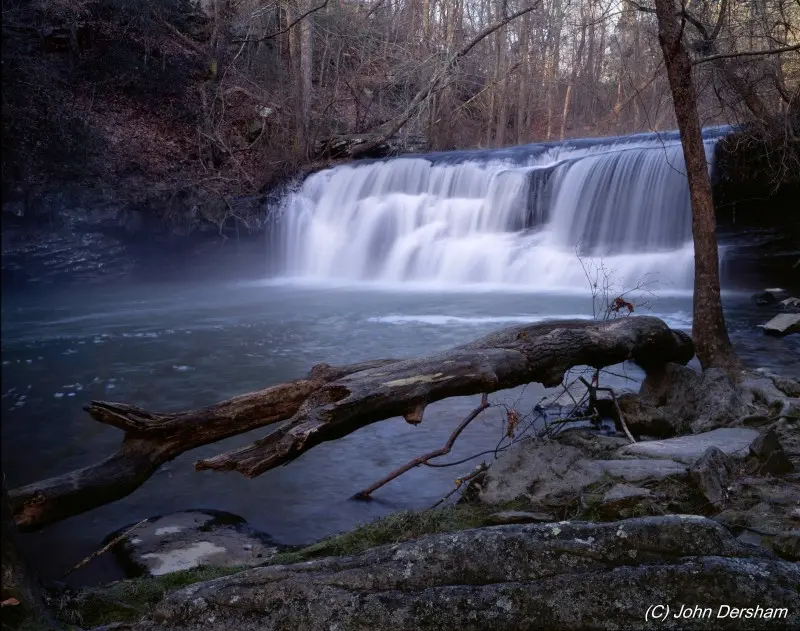 Mardis Mill Falls, or also known as Graves Creek Falls, is a 35-feet wide and 16-feet tall falls located on Graves Creek. The stunning falls are fed from The Black Warrior / Locust Fork River.  Plus, the are just 45 minutes from Birmingham. Some of the attractions in the area include the Horton Mill Bridge, Swann Bridge, The Easley Bridge, and Palisades Park. You can also visit nearby falls such as Welti Falls, Thompson Falls, and Noccalula Falls so you can hit several tourist spots during your visit.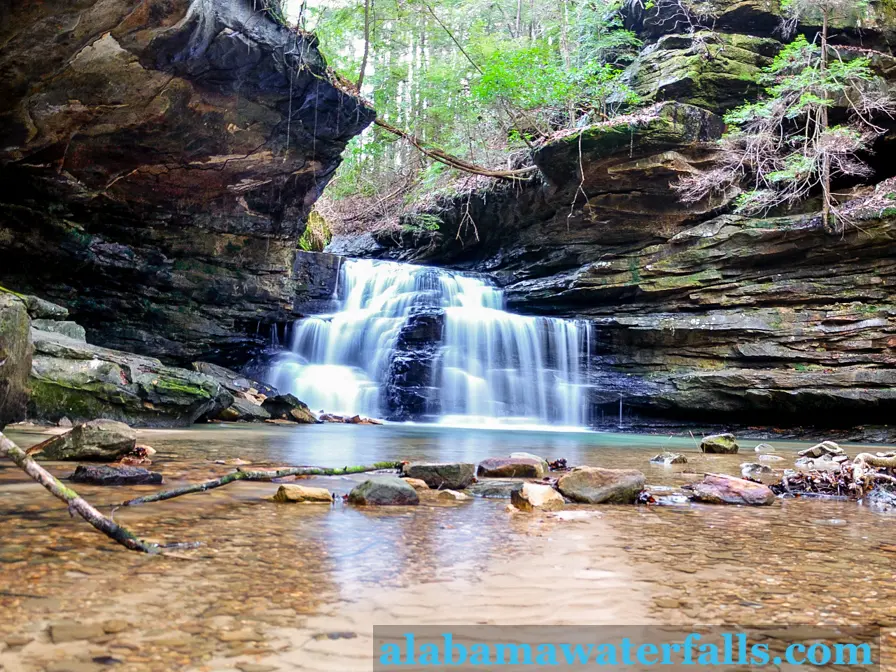 Mize Mill Falls is another gem in the Sipsey Wilderness Area of Bankhead National Forest.  The beginning of the trail off of the road is not well traveled, so be sure to use the GPS track on our post and carry a good map and compass as a backup!
High Falls is an impressive spot located south of Lake Guntersville along the Tennessee river. The falls drop approximately 35 feet high and 300 feet wide, making it a great spot to relax and enjoy after your short hike from the parking area.
The natural archway at the base of the main fall is a unique feature that you won't see anywhere else in the state.
Chewacla Falls is a cool spot in Chewacle State Park popular for mountain biking, hiking, and fishing due to its close proximity to Lake Chewacla. If you live near Auburn, you can easily make an enjoyable afternoon trip to the falls. Although a man-made lake and dam, the scenery is still gorgeous and relaxing. If you are looking for more adventure and don't enjoy mountain biking, you can also head over to the nearest falls to Chewacla State Park, such as Cheaha Falls and Salt Creek Falls.