Parker Falls is off of Kinlock Road on the west side of Bankhead National Forest, and its beauty is almost matched by its surroundings.
At a Glance
1.7 mi round trip
Nice View
Kids OK
Dogs OK
Location:
Near Orange in
Bankhead National Forest
Alabama (
maps & directions
)
Gear:
Our favorite snacks and
camera gear
Gallery:
Check out
the pictures here
Parker Falls - Trip Details
As a large family, we find renting a home for a night much more relaxing than a hotel, and it's so nice to have a place nearby to crash after a long day of hiking! You can find nice, affordable homes
on Vrbo
.
Parker Falls is a small cascade in the west side of Bankhead National Forest. While the trail isn't improved or marked, it gets enough traffic to be pretty easy to follow. The trailhead starts on Kinlock Road just south of the ever-popular Kinlock Falls. Unlock Kinlock Falls, Parker Falls and Parker Cascades does require a hike of about 1.7 miles, depending on how much you explore once you get down to the creek.
The trailhead is right on Kinlock Road, which isn't the prettiest piece of blacktop, but is fine for the average car. The trailhead is before the road turns to dirt and gravel on the way north to Kinlock Falls. Fortunately, there is plenty of room for a few cars on both sides of the road, and you generally won't find more than a few on this trail, even in the spring and the fall.
The trail itself is relatively flat, with only a couple hundred feet of descent down to the falls, and most of that is right at the end as you descend into the canyon that contains the creek and make your way to the natural bowl with the main falls.
On the way down, you'll see several small falls in wetter seasons. You'll cross a small creek just above a waterfall and make your way down into a small bowl. The trail is pretty narrow here, with a steep side and a sharp drop to the creek on your right. If you have more than 1 small child or dog per adult, this section will be a little harrowing.
It's best to cross the creek here in my opinion.
From here, you'll continue down past several more small drops.
Quiz: how many waterfalls do you see in the picture below?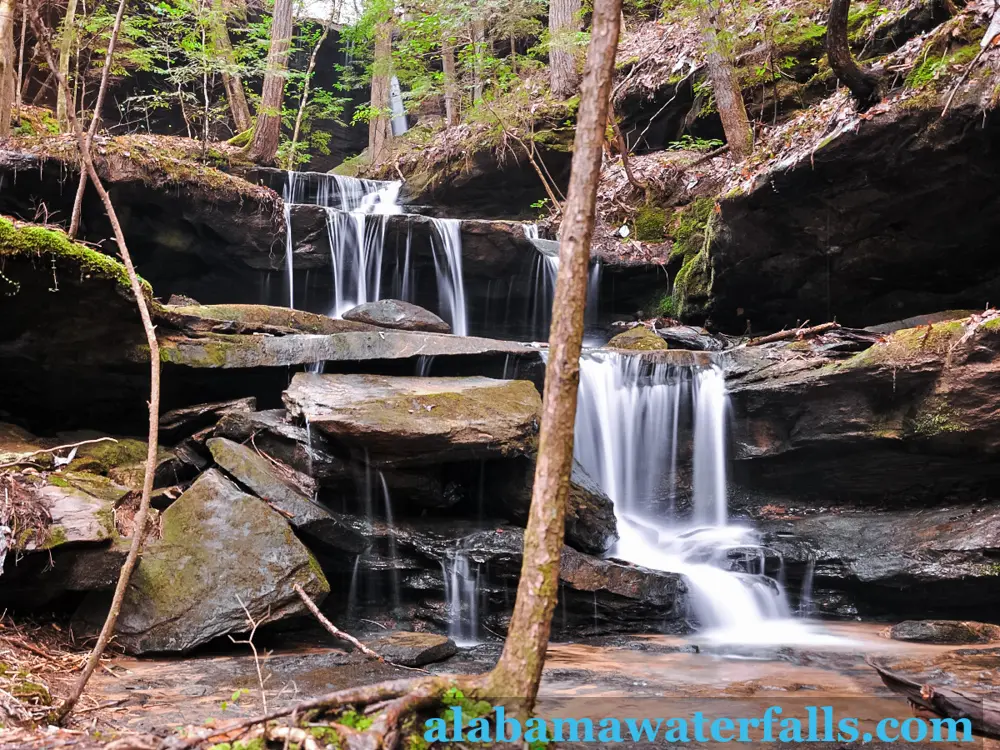 Once you get to the next larger waterfall in the small creek that you're following into the main canyon, you'll want to hang a right and head upstream to see Parker Falls. As with most waterfalls, this one is best enjoyed in the shoulder seasons, when it has plenty of water flowing. But, the rock walls of the canyon and moss everywhere you turn make this a cool spot any time of the year.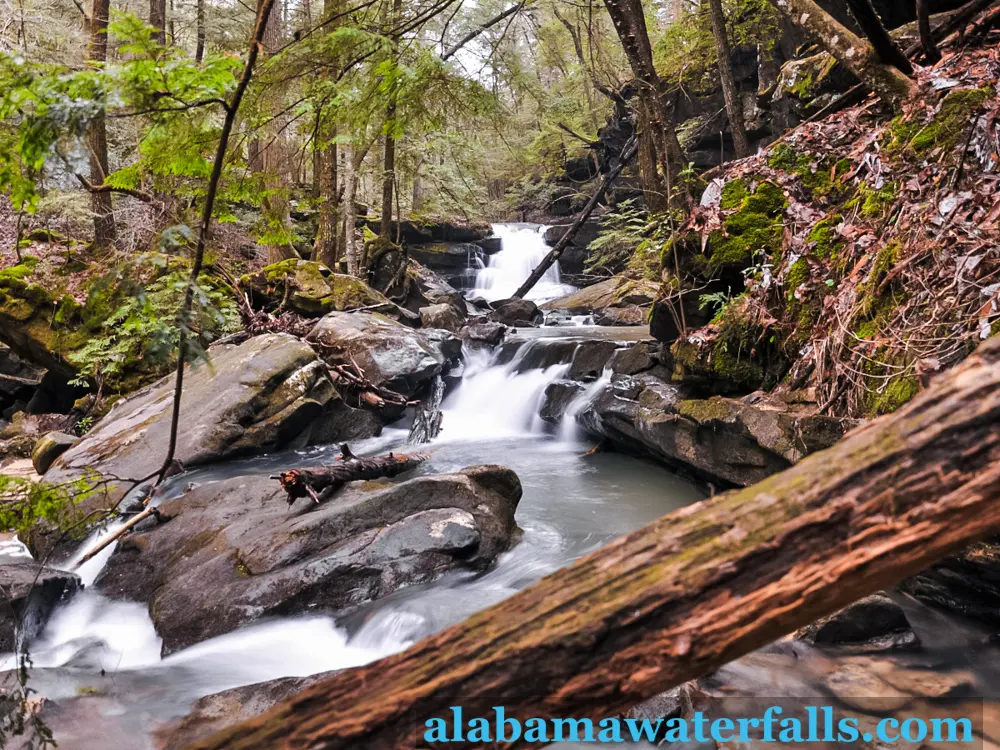 If you choose, you can also explore further north (downstream) to seek out Parker Cascades. This section is less-traveled, and the walking does get difficult in a few steep places. You'll be travelling in a pretty narrow canyon and would be wise to expect to put your foot in water at some point.
All in all, this was a nice hike with some cool features, and there should be plenty of water here most of the year, though the initial falls on the way to Parker Falls may be dry.
Planning a trip?
Be sure to check the weather forecast below and print out a topographic map just in case your phone can't get a GPS signal or runs out of battery. You can use the GPS track below to guide you on your hike. I'd love to see your pictures on Instagram or our Facebook page once you get back!  Just tag @alabamawaterfalls. 🙂
More Waterfalls around Bankhead National Forest
Your trip to Parker Falls could easily turn into an entire day of hikes and waterfalls. The ever-popular Kinlock Falls is just north on Kinlock Road. And, Caney Creek Falls is a pleasant hike with a cool reward at the end on the same side of the national forest.
East torwards the Sipsey River, you can visit Eagle Creek Falls, Deer Skull Falls, Little Ugly Falls, and Wolfpen Falls.  Turkey Foot Falls and Fall Creek Falls are in the same area too, so you can clearly spend a few days here if you really take your time visiting all of the sites.
Parker Falls Map, Directions, and Resources
Directions

Get Directions

Parking

-

GPS Coordinates

34.3034319,-87.4839107
Weather - Upcoming Forecast