Kinlock Falls in Alabama's Bankhead National Forest is a very accessible cascade that's great for a couple of hours of fun just off of a park road. The large, deep pool at the base makes this a popular summer swimming hole.
At a Glance
0.2 mi round trip
Nice View
Kids OK
Dogs OK
Location:
Near Kinlock Falls in
Bankhead National Forest
Alabama (
maps & directions
)
Gear:
Our favorite snacks and
camera gear
Gallery:
Check out
the pictures here
Kinlock Falls - Trip Details
As a large family, we find renting a home for a night much more relaxing than a hotel, and it's so nice to have a place nearby to crash after a long day of hiking! You can find nice, affordable homes
on Vrbo
.
Kinlock Falls is so close to the road, it's not so much of a day trip as a nice add-on to a day of fun exploring Bankhead National Forest. When we went, it was a convenient add-on to a hike to see Caney Creek Falls to fill out the day. The falls are a relatively smooth cascade into a pool below, and some are brave enough to slide into the pool down the rock face, though I wouldn't recommend it without an intertube (and maybe a helmet!).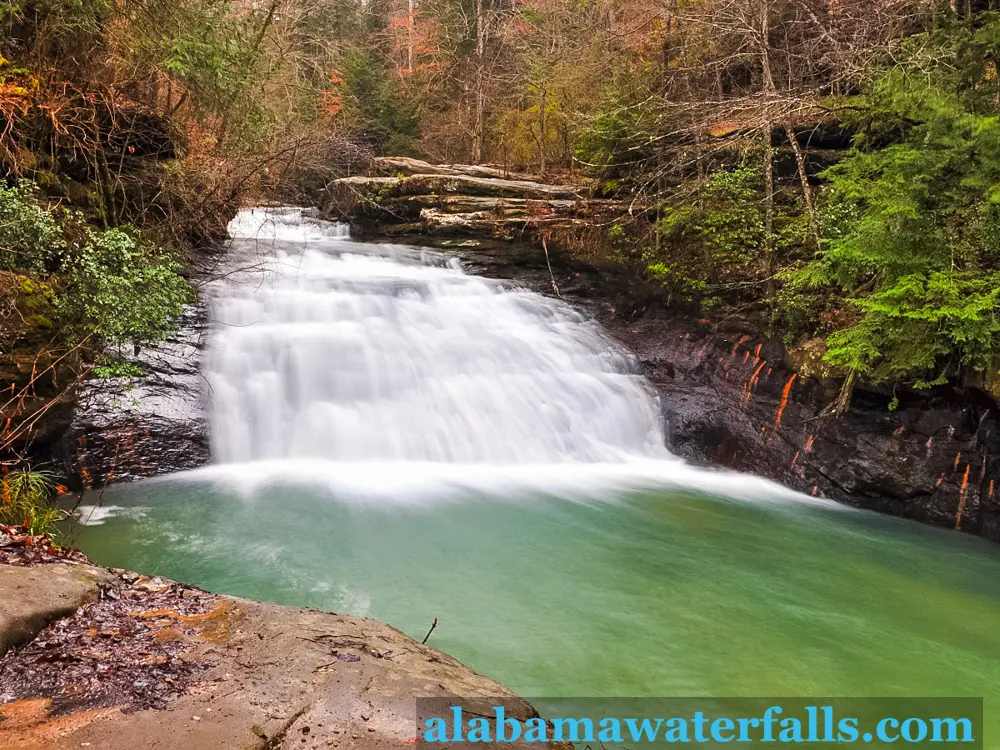 The falls are just before you cross the bridge over Hubbard Creek if you are going north on Kinlock Road. There is room on the side of the road to pull off and park.
From there, you can take the steps down from the road and pick your way down to the view above the falls. If you want to continue down to get wet or view the bottom of the falls, just keep heading down stream and down hill to make it to the creek. From there, you can work your way out to snap a picture, though you'll need waterproof boots to keep your feet dry.
The scramble down will be a challenge for the smallest dogs and children, but it's nothing that can't be negotiated without a little help.
If it's warm and you brought a bathing suit, you can even swim over and try your hand at climbing the falls using the rope on the right side for assistance.
If you're really feeling adventurous, and you're visiting after enough rain, there's a small waterfall just downstream that's pretty photogenic in it's own right!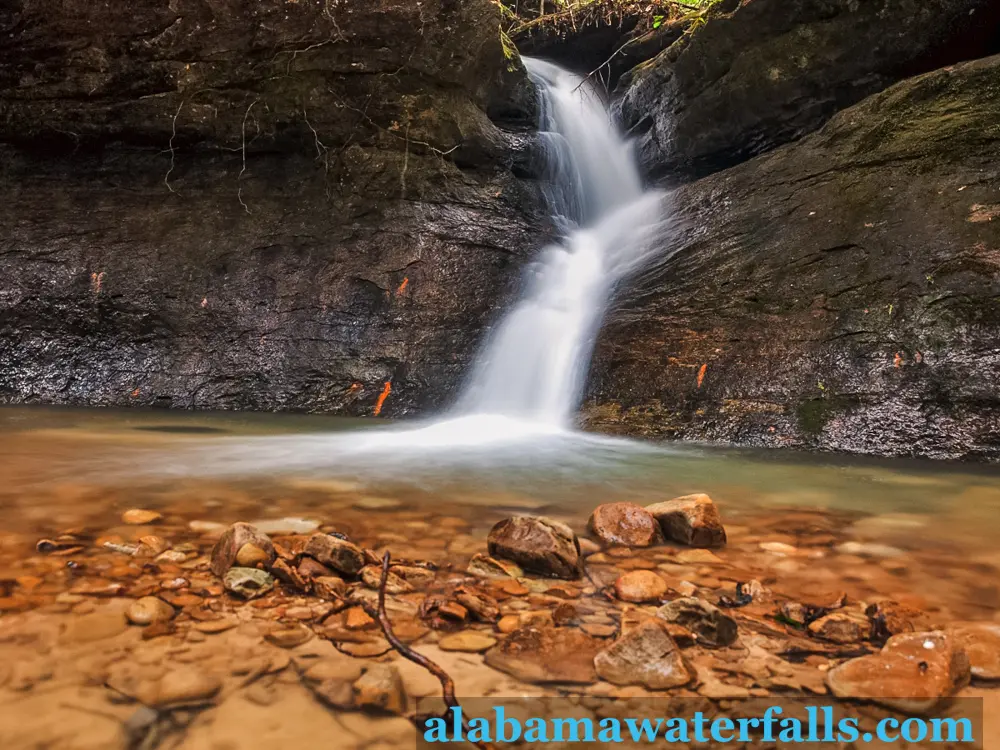 Conditions
More Waterfalls around Bankhead National Forest
The other major waterfall of the Sipsey Wilderdness is Caney Creek Falls. But, there is also the seasonal Falls Creek Falls near the Sipsey River Trailhead and Parker Falls just south on Kinlock Road to visit while you're here. Plus, the water sources and landscape lend themselves to unnamed cascades in multiple spots in this beautiful wilderness area.
You can also visit Sougahoagdee Falls at 34 15' 14"N 87 15' 51"W for another nice view.
Kinlock Falls Map, Directions, and Resources