Shangri-La Falls is a gorgeous waterfall and splash pool in Bankhead National Forest that's definitely one of the top visits in the area.
At a Glance
0.4 mi round trip
Nice View
Kids OK
Dogs OK
Location:
Near Grayson in
Bankhead National Forest
Alabama (
maps & directions
)
Gear:
Our favorite snacks and
camera gear
Gallery:
Check out
the pictures here
Shangri-La Falls - Trip Details
As a large family, we find renting a home for a night much more relaxing than a hotel, and it's so nice to have a place nearby to crash after a long day of hiking! You can find nice, affordable homes
on Vrbo
.
While it looks a little questionable on the map, the trail to Shangri-La Falls is well-travelled. This area was burned in 2022, so it will take a couple of years for the understory to really get thick again for ticks and snakes in the warmer months!
The hike is pretty much all down hill, and the only tricky section is the decent down into the canyon at Collier Creek.  That part is pretty typical, but expect a somewhat slippery decent aided by trees and whatever else is around.
Hiking poles will be helpful in spots!
Once you're in the canyon, it's just a short hike upstream to the waterfall which has a beautiful plunge pool at the bottom.  The tree leaning out over the water makes a really unique spot to hang out and chill a while before you head back up hill.
On the way back, it's all up hill. So, be sure to leave with plenty of time before dark if you need to stop and rest. But really, this is a short walk for most. I would not recommend this trip for seniors with mobility problems, but our kids were able to manage with minimal help!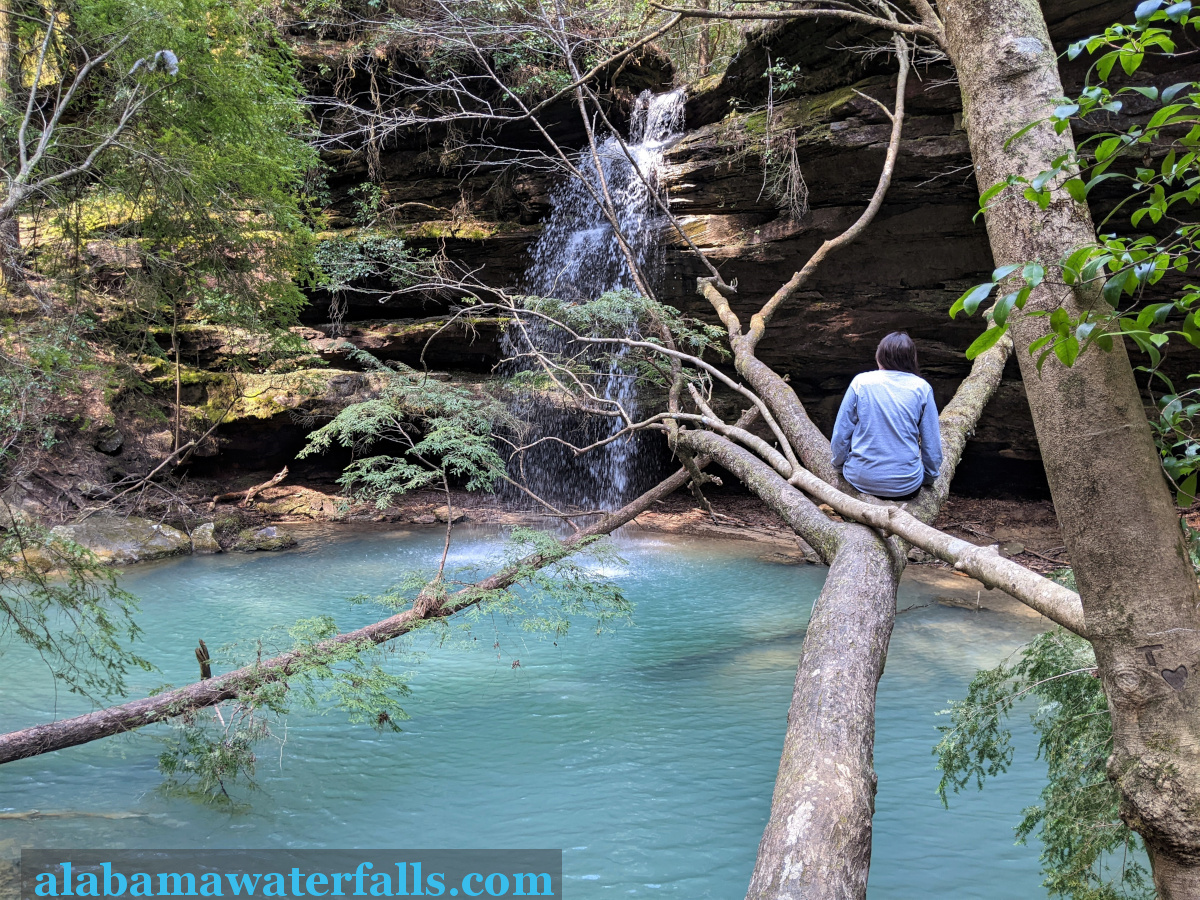 More Waterfalls around Bankhead National Forest
Shangri-La Falls Map, Directions, and Resources
Weather - Upcoming Forecast