Huntsville, Alabama is best known as the "Rocket City" because of its space-related attractions such as NASA's Marshall Space Flight Center and Space Camp. But don't be deceived as there is more to Huntsville and the surrounding area than rockets and space shuttles.
Huntsville is also a great base for other fun day trips. Enjoying the great outdoor activities in and near town as well as those a short drive away can make for a great weekend afternoon. From trails to safaris to caves and to waterfalls, there is definitely an activity for you.
Russel Cave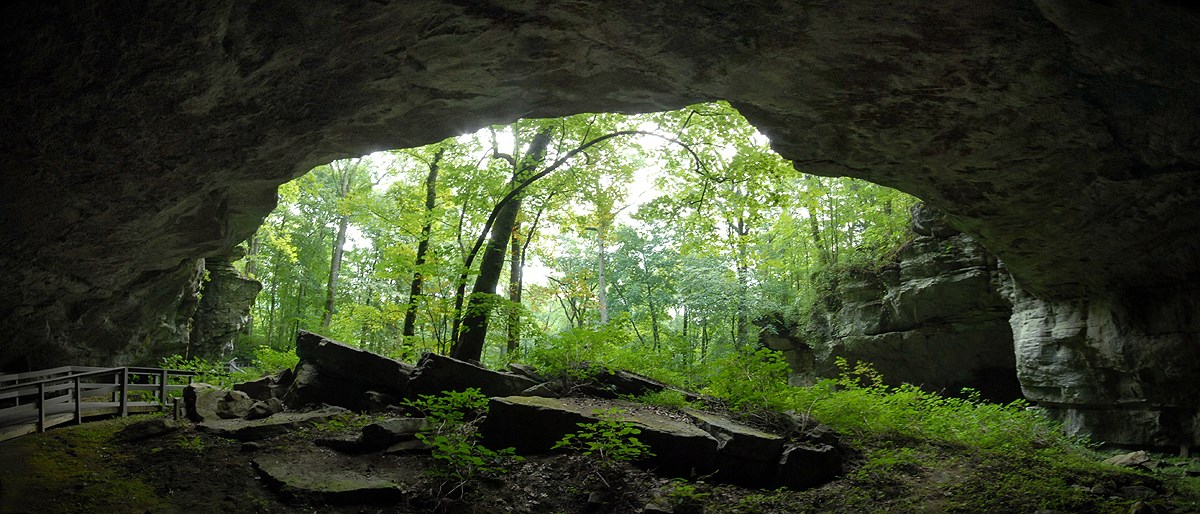 Source: https://www.nps.gov/ruca/planyourvisit/images/Russell_Cave_2010.jpg?maxwidth=1200&maxheight=1200&autorotate=false
As a large family, we find renting a home for a night much more relaxing than a hotel, and it's so nice to have a place nearby to crash after a long day of hiking! You can find nice, affordable homes
on Vrbo
.
Russel Cave, located in Northeast Alabama, near the town of Bridgeport, is an archaeological site. It offers a glimpse of the cave's human history, a tour of the cave shelters and a demonstration of prehistoric tools. It is also a part of the North Alabama Birding Trail thus giving visitors a chance to see tanagers, yellow-billed cuckoo, and lots of other birds. The Native American festival is also held here during Spring.
Located 36.8 miles from Huntsville, Thompson Falls is one of the best falls to visit in Alabama. With three falls cascading down a gorge, one can't help but marvel in its beauty.
Located in the Keel Mountain Preserve, Lost Sink Falls is just a 22 minute drive to Huntsville. It is considered to be the main attraction of the area not just because of the water cascading down the limestone rocks but because of the sinkhole that seem to catch the falling water.
Source: http://3.bp.blogspot.com/-wQBqbXAY-rQ/TvrSp-CMHmI/AAAAAAAAAGw/Sgb73aHYweI/s1600/IMG_0062.JPG
Another popular trail is the Walls of Jericho Trail, a 6.6 mile trail located in Estillfork, Alabama - a 52 minute drive from Huntsville. The trail offers numerous activities such as hiking, biking, camping, hunting, and horseback riding. Further, as part of the Skyline Wildlife Management Area, visitors can enjoy bird and wildlife viewing. A natural rock amphitheater and several picturesque waterfalls add appeal to this trail.
Cathedral Caverns State Park
Source: https://www.alapark.com/sites/alapark.com/files/styles/large/public/cathedralwalkwaylights.jpg?itok=pYRg2Ehk
Located in Woodville, Alabama, Cathedral Caverns State Park is most famous for its cave system. Originally called Bat Cave, it was changed to Cathedral Caverns in the 1950s by explorer Jay Gurley and his wife as they felt that the cave looks more like a cathedral with its huge stalagmites. The cave's entrance measuring 126 feet wide and 25 feet high is one of the largest, if not the largest, cave openings in the world. Further inside, one will marvel at the beautiful formations nature has created such as the Goliath where a stalagmite and a stalactite joined and formed a huge column that measures 243 feet circumference and 45 feet high, and a 25 feet tall frozen waterfall.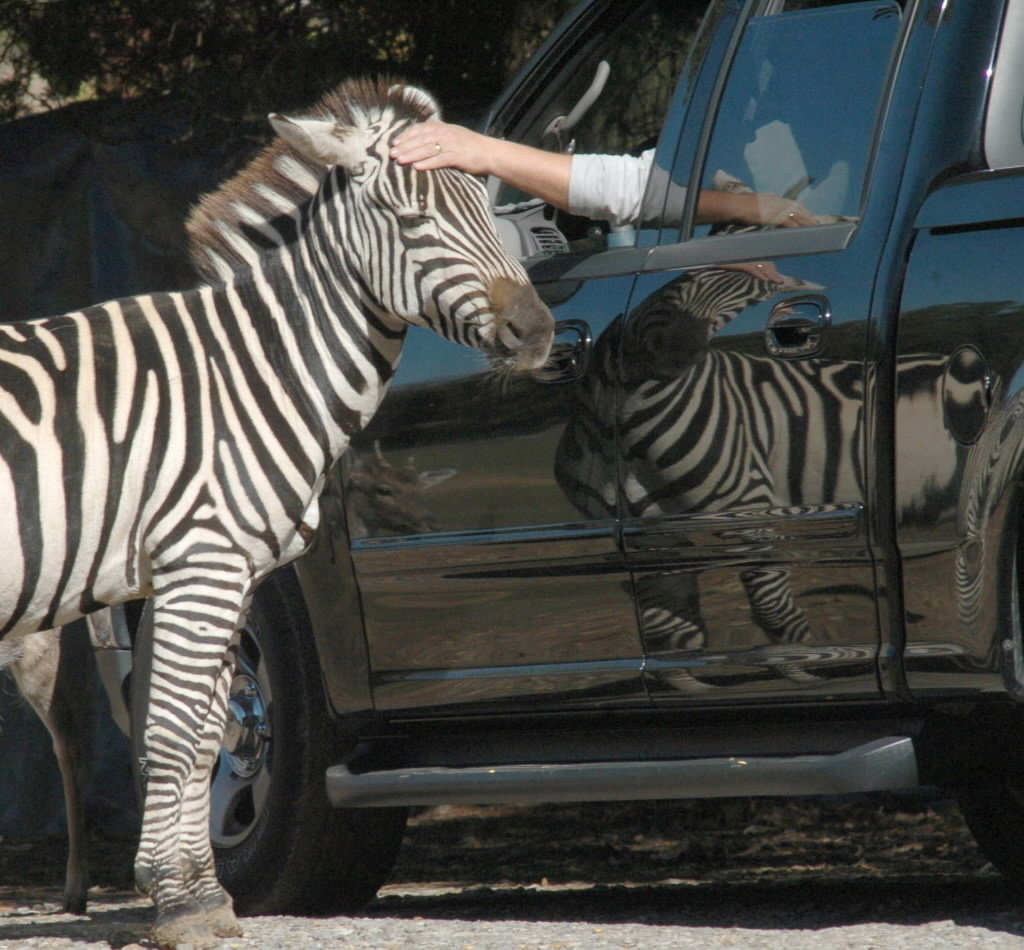 Source: https://assets.simpleviewinc.com/simpleview/image/upload/crm/huntsville/harmony-park_c6c09f65-5056-a36a-08bf2d3d412e5d1f.jpg
Open from March to November, Harmony Park Safari is a nature preserve home to free-ranging exotic and endangered animals such as bison, zebras, llamas, ostriches, buffalos, peacocks, antelopes, camel and tortoises.
Using your own car, you can go around the safari and get up close and personal with the animals. Make sure that you buy some food for the animals though so they will go near your car and you can have your moment with them.
Fagan Creek Falls (Land Trust Falls)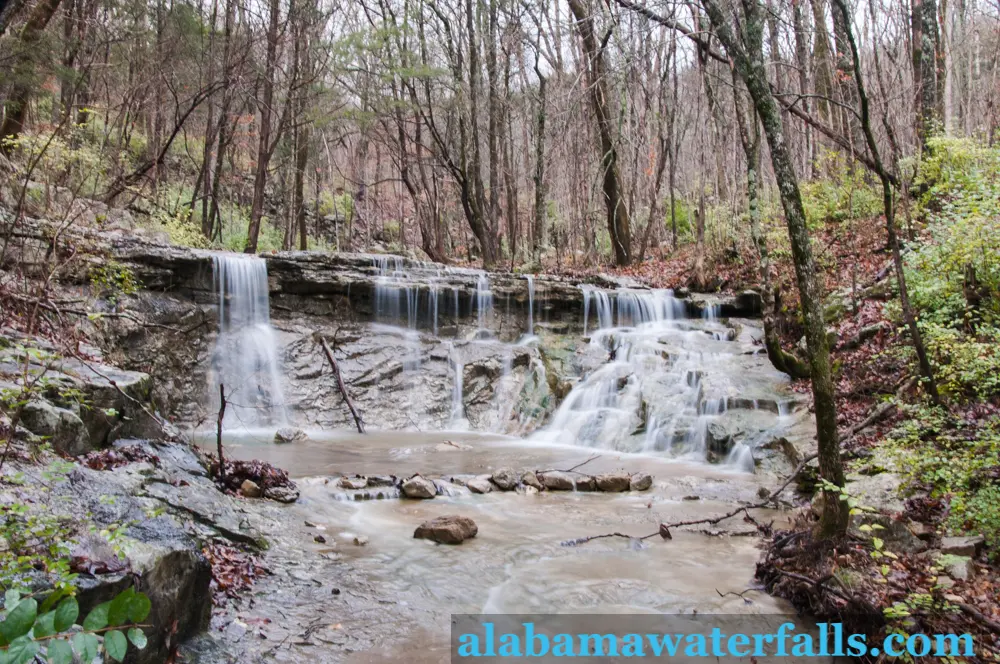 Fagan Creek Falls is located within the Land Trust of North Alabama. It may not be a large falls compared to the others but seeing it in the middle of hiking makes you want to take that much needed breather right then and there.
Short Creek Falls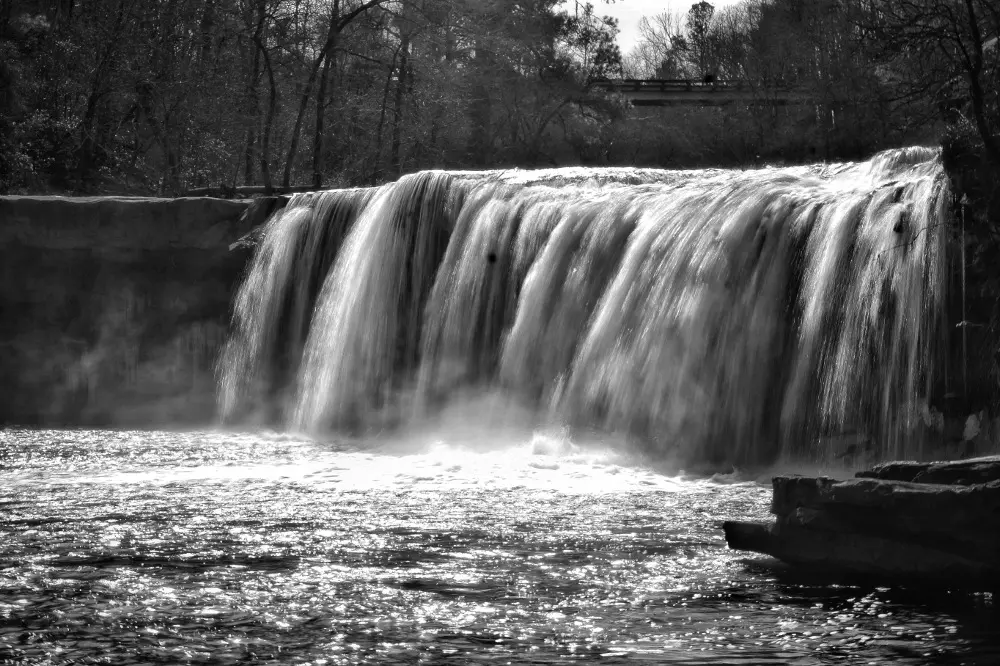 Short Creek Falls can satisfy your kayaking fix, since it's on a popular stretch of water during high water. Located 45 miles away from Huntsville, hiking isn't a great option since it's on private property. Credit to Lane Leopold for the breathtaking picture of Short Creek Falls above.
Source: https://www.madisoncountyal.gov/Home/ShowPublishedImage/822/635766192277470000
Hikers and lovers of the outdoors will have their cups filled with the numerous trails the city offers. The Monte Sano State Park alone features over 22 miles of well-marked and accessible trails. Other trails you can try include the Blevin's Gap Nature Preserve, which features 12 miles of hiking trails and the best spot to enjoy the view of Jones Valley, the Chapman Mountain Nature Preserve, and the Madison County Nature Trail.
Source: http://www.huntsvilleoutdoors.com/hiking/48-trail-guide/65-the-definitive-monte-sano-trail-guide
The Monte Sano State Park or the Mountain of Health, boasts of 2,140 acres of land perfect for hiking, biking and camping. It features over 20 miles of hiking trails and 14 miles of biking trails. Some trails feature caves, wildflowers, springs and even old railway tracks. It also has areas for RV's and tents for those who enjoy camping.
Huntsville Botanical Garden
Source: http://hsvbg.org/wp-content/uploads/2016/06/our-garden-1.jpg
This 112 acre garden is one of the top visitor destinations in Huntsville. It offers trails throughout its different areas such as their 14 themed herb gardens, romantic aquatic garden and children's garden, a 2 acre garden complete with mazes, water, dinosaurs and rainbows. There is also a trail dedicated to bird lovers called the Lewis Birding Trail which allows visitors to see up to 40 bird species.
Seasonal attractions are also available in the garden such as the large open-air butterfly house which is normally open from April to September. In November and December on the other hand, there is the Galaxy of Lights which features beautiful lights installations in the entire garden. A reminder though, as this is one of the most popular events in the city, booking your tickets to this is a must.
Source: http://www.americathebeautiful.com/wpimages/wpbad2a972_05_06.jpg
Located in downtown Huntsville, the Big Spring International Park is considered the most popular park in the area. It was said that John Hunt, Huntsville founder, sought this abundant water source and settled near it back in 1805. This "big spring", a huge underground spring that used to be the city's main water supply source until the 1960's, is at the center of Huntsville as the the town is said to have been built around this.
The park boasts of gifts given to the city by other countries and foreign nationals. These include a light beacon and a fog bell from Norway, the iconic red bridge and Cherry trees from Japan, and a sundial from Germany.
The park is also the site for the Panoply Arts Festival, various concerts and holiday events, and an outdoor ice skating rink during the winter months. Further, animals such as ducks, geese and koi also call the Big Spring their home.
Source: https://img.marinas.com/v2/bbd5ed2418a40b49f943cb47f31c98ce57897ec9dfed9e221260f2bcb2a011a1.jpg
Ditto Landing is the southernmost boundary of the city and is Huntsville's gateway to the Tennessee River. You can enjoy various activities here such as boating, swimming, fishing and water skiing.
Perhaps one of the most photographed waterfalls, Neversink Falls is located in Fackler, Alabama, only around 38 miles away from Huntsville. With the waterfalls as your background, one must rappel down 162 feet to be able to reach the bottom, an underground cave system.