While it isn't the biggest waterfall in the state, the Fagan Creek Falls (aka Land Trust Falls) are close to home for many and a moderately challenging outing for kids and fur babies alike!
At a Glance
0.6 mi round trip
Nice View
Kids OK
Dogs OK
Location:
Near Huntsville in
Monte Sano State Park
Alabama (
maps & directions
)
Gear:
Our favorite snacks and
camera gear
Gallery:
Check out
the pictures here
Fagan Creek Falls - Trip Details
As a large family, we find renting a home for a night much more relaxing than a hotel, and it's so nice to have a place nearby to crash after a long day of hiking! You can find nice, affordable homes
on Vrbo
.
From the parking lot, you'll take the Alms House Trail from the south of the parking lot down to Fagan Creek.  When you reach the creek, there will be a small cascade above the crossing.  The main fall is just below the creek crossing.
NOTE: Limestone (the stuff this mountain is primarily made out of) is very slick when wet compared to other rocks.  Be careful crossing and letting kids play in the water!
From here, you can continue on the Alms House Trail and then hang a right at the Fagan Springs Trail to see another small fall near Fagan Spring before heading back to the car or completing one of many loops available in the park for a longer trip.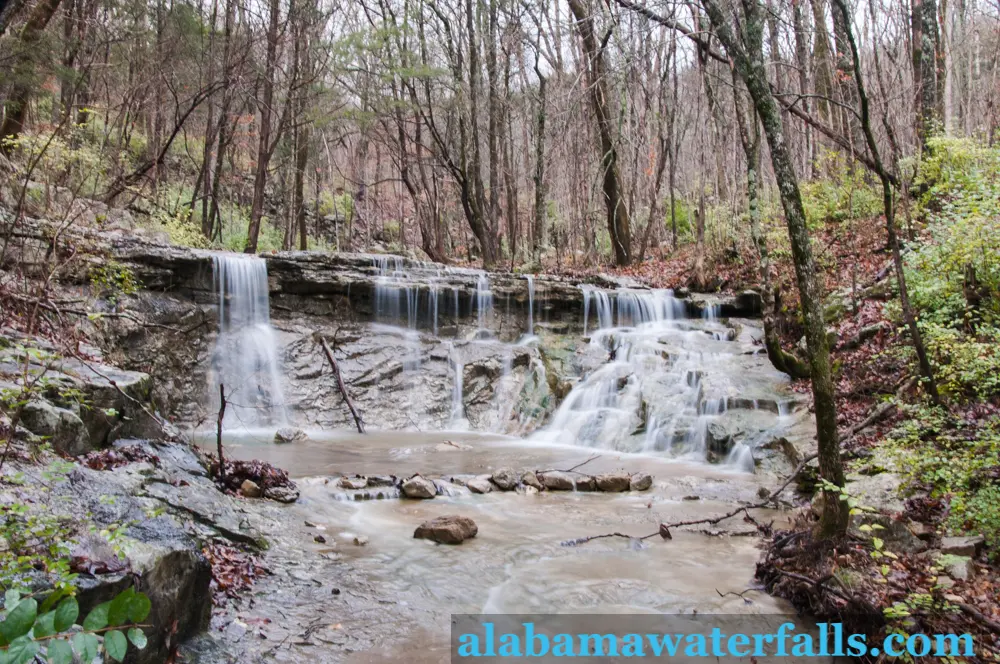 More Waterfalls around Monte Sano State Park
Lost Sink Falls is just east of town near Gurley and a very nice hike with multiple rock formations, sinks, and caves.  Be sure to check out our trip guide to know what to expect.
Another falls you can visit is Neversink Falls in Fackler, Alabama.  We have a trip guide you can use as well.
Fagan Creek Falls Map, Directions, and Resources
Weather - Upcoming Forecast